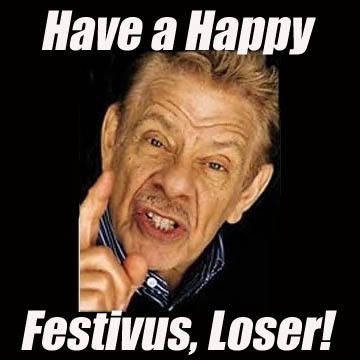 And we'll belay the customary Festivus airing of grievances to say... "I'm Rick WARREN, bitches."
And to all, a good Festivus.
Comments
A belated Happy Hannukah, TD, and a Merry Christmas. To you, Mrs. TD and the talking pup.
Your presence and face-to-face added much richness to my life this year. You are truly a gent of the highest order.
Oh, and I'll send you some shoes to test Rick Warren's duck reflex.
Posted by Kevin Hayden at December 25, 2008 3:45 AM
Talk about your lost classics. Yaphet Kotto in "The Messiah on Mott Street"? And on the dvd, you get a commentary by Guillermo Del Toro. Not to mention "Silent Blog, Secret Blog."
Posted by Abraham Goldman at December 25, 2008 8:26 PM